ABB'S YuMi NAMED BEST INDUSTRIAL ROBOT OF 2016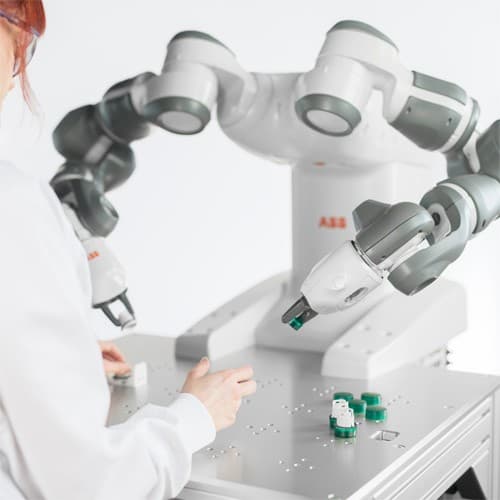 Claimed as the world's first 'truly collaborative robot', the YuMi robot has been granted a Golden Finger award at the China International Robot Show (CIROS), and is set to play a key role in the future of manufacturing development.
ABB's YuMi robot solution was specifically designed to help consumer electronics meet these challenges by unlocking innovative new collaborative manufacturing solutions, where people and robots safely work together on shared tasks.
With recent advances in interconnected manufacturing technology, global manufacturers have begun to look towards alternative manufacturing strategies, and robots are set to play a key role in improving productivity and increasing output without dramatic increases in size.
CIROS is organized by the China Machinery Industry Federation and the China Robot Industry Alliance, and is one of the top three largest robotics events in the world. 2016 marks the first year for the Golden Finger awards.
One out of every four robots sold today is sold in China, which is the world's leading robotics growth market. According to the International Federation of Robotics, some 68,000 units were sold in China during 2015, which is a 17 percent increase over 2014.
In industries such as personal electronics, the need for more customized products and higher quality expectations are changing the nature of manufacturing.
Production is shifting from mass producing the same product for a long time to producing small lots of more diverse products for a shorter business cycle.
As robots improve in scope, and move beyond the simpler and less diverse tasks of their technological predecessors, they offer the flexibility and agility to remain productive and improve quality while adapting to meet increasingly diverse consumer needs.
"ABB is working closely with its customers to help transform their manufacturing and find new ways of unlocking the flexible, efficient 'factory of the future,' today. Collaborative automation will certainly play a large part in this journey," said Sami Atiya, President of ABB's Discrete Automation and Motion division.