ABB RAISES ROOF ON WORLD'S LARGEST FREE-SPANNING DOME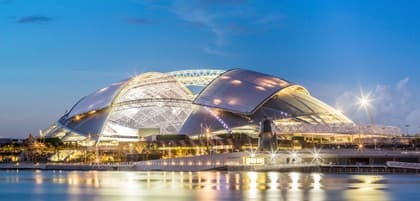 Leading power and automation technology group ABB is set to drive the retractable canopy on the world's largest free-spanning domed roof at Singapore's new National Stadium, part of the Singapore Sports Hub.
The 55,000-capacity stadium is the first of its kind in SE Asia to boast a retractable roof and the only stadium in the world built to accommodate soccer, rugby, cricket, athletics and concerts all in one venue.
The stadium's dome roof is one of its most distinctive features, and will become a prominent part of the Singapore skyline.
Covering about 20,000 sqm, weighing 2,200 metric tons and reaching some 80m high, the roof is partially retractable to offer spectators ventilation and protection from the elements. 
The stadium is ABB's latest project in "moving architecture."
Other notable professional sports venues with retractable roofs automated by ABB drives include Arizona's Cardinals Stadium and Dallas's Cowboys Stadium.
ABB power and automation technologies are in place at a number of the world's premier sport venues, including Cape Town Stadium in South Africa, Olympic stadiums in Beijing, China, and Rio de Janeiro's Maracana Stadium in Brazil – venue for the final match of the 2014 FIFA World Cup.
"This ambitious project represents a remarkable milestone for ABB in terms of intelligent control and automation, and we are proud to be a part of Singapore's iconic achievement," said Pekka Tiitinen, head of ABB's Discrete Automation and Motion division. 
It only takes around 20 minutes to fully open or close the roof, which is divided into two sections each programmed to travel at around 40mm per second. Three ABB Programmable Logic Controllers (PLC) are the 'brains' behind the motion, providing the control and coordination for 32 regenerative variable speed drives to automate the roof.
Regenerative drives can recover thermal energy from the motor deceleration process, convert it into electrical energy and feed it back into the network – saving energy that would have otherwise been wasted. Thanks to their superior harmonic performance and Direct Torque Control, the ABB drives can maintain power supply quality and run with zero speed torque, which increases the safety and energy efficiency when moving the roof. 
In addition to being weather resistant and blocking the sun's heat, the innovative roof doubles as an enormous projection screen. The steel trusses supporting the dome are lined with some 3,000 LED lights, further adding to Singapore's already glittering nighttime skyline. 
Built on the original site of the National Stadium that was demolished in 2010, the Singapore Sports Hub opened its doors to the public in June 2014.