ABB launches robot for safer, high precision arc welding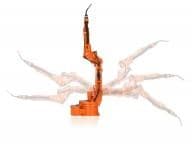 Compact and accurate … ABB's new arc welding robot
ABB, the leading power and automation technology group, has introduced the IRB 1520ID arc welding robot for use in metal fabrication.
With integrated process dressing technology, designed specifically for arc welding in metal fabrication, all power cables and necessary gas and pressurized air hoses used in welding are integrated into the arm of the robot providing a shielded dressing or covering.
In general, arc welding can be a dangerous process to people that weld, presenting risk of burns and over exposure to ultraviolet light causing eye injury.
Operators can program ABB's IRB 1520ID robot to do the welding, reducing the risk of personal injury. These robots also support manufacturers' with optimising cycle times, saving materials, reducing waste and improving productivity and product quality.
ABB's IRB 1520ID high precision robot is designed so that power cables and necessary gas and pressurised air hoses used in welding are integrated into the arm of the robot providing a shielded dressing or covering. This protection provides greater safety for operators plus more simplified robotic programming with more predictable welding results without estimating for swinging cables. 
The risk of sharp metals damaging cables - which can cause serious hazard for operators, is reduced.  With the cabling tucked away, the lifespan of the cabling and the robot itself is also extended. 
Besides reducing safety risks for welders, the integrated dressing design increases accuracy and allows for more flexible movements.
More uninhibited movement is needed, for example, for single-motion welds around cylindrical objects or hard to reach weld seams.
The IRB 1520ID robot has been designed with a slim upper arm design allowing easy access to narrow spaces.
With a reach of 1.5m and payload capacity of 4kg, the robot can be mounted on the floor or inverted for flexibility, offering shorter cycle times and a wide range of production possibilities.
ABB's IRB 1520ID interfaces with FlexPendant human machine interface (HMI). With its intuitive, multilingual interface, the FlexPendant can be used by operators with minimum training. The power source interface is also fully integrated so users have full control over voltage, current, speed, gas flow, and other welding parameters from the same interface as the robot.
"Manufacturers that require automated arc welding now have an easier way to upgrade to a robotics solutions thanks to the IRB 1520ID" said Paolo Maggi, robotics specialist at ABB in Australia. "This is a very compact and extremely accurate robot, easily integrated for general purpose arc welding."
Users of the IRB 1520ID can also access all the benefits of ABB's Remote Service, a system which provides remote access to the arc welding system for production monitoring, fast diagnostics and predictive maintenance.
ABB is a leader in power and automation technologies that enable utility and industry customers to improve their performance while lowering environmental impact.
The ABB Group of companies operates in around 100 countries and employs about 145,000 people.