90% OF SPACE SOLD FOR AUSPACK 2017
12-10-2016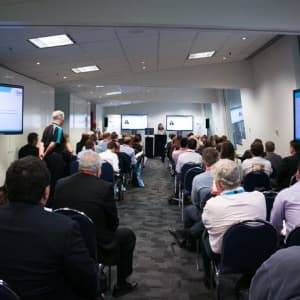 Momentum is growing for Australia's most innovative event for the processing and packaging industry.
According to Mr Luke Kasprzak, Portfolio Director – Industrial Division, Exhibition and Trade Fairs, who are the organisers of AUSPACK, "90% of space has already been sold with five months to go is evidence that exhibitors recognise the biennial event as the premier processing, packaging and materials trade show in Australia," 
"Such extensive industry support this far out from the event is a testament to AUSPACK's enviable track record over the last 30 years as the recognised vehicle in Australia to showcase what's new, what's better and what's different in processing and packaging machinery technology." Mr Kasprzak said.

Companies like Fibre King, VISY, Heat and Control, Walls Machinery and Krones Pacific support AUSPACK year on year due to measurable results from exhibiting and participating in the four-day trade show.
Mr Burt Beaumont, Sales Manager - Australia & New Zealand, Fibre King advised that Fibre King have been proud supporters of AUSPACK for over 25 years.

"The value Fibre King takes away from AUSPACK naturally includes future leads and project enquiries, but it also allows us to network with existing customers, showcase our innovative designs and build alliance partnerships across the industry." Mr Beaumont said.

The 2017 show will also see new exhibitors; FROMM Packaging, Autocoding Systems, Fanuc, SMC Pneumatics and more join the show.

Packaging and Processing Week will see the expansion of the AIP National Technical Forums, which will provide a three-day knowledge and educational program alongside AUSPACK 2017.
the inaugural PIDA Awards will also take place along with other networking events to celebrate the show. 
AUSPACK 2017 will provide opportunities to see hundreds of processing and packaging innovations, engage in education and training and enhance networking opportunities within the industry.
For further information about AUSPACK 2017, please visit www.auspack.com.au