$80m investment in Aussie manufacturing
31-08-2010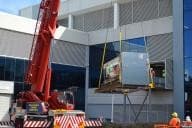 Special delivery … the first of four Respules 4010 production lines is lowered into AstraZenecas's Sydney headquarters
AstraZeneca Australia has received the first of four specialised production lines that will generate over $250 million of medicine exports to China by the end of the decade.
The machinery, known as a Respules 4010 line, has the capacity to produce 60 million units every year of a medication called Pulmicort Respules. The medicine is produced in Australia specifically for the burgeoning Chinese market, where demand for the product is rapidly on the rise.
AstraZeneca's investment in its production site at the Sydney suburb of North Ryde, is a unique story of success that contrasts against the current declining trend of investment in Australian manufacturing.
AstraZeneca claims that this is due to a global sole supplier relationship it has with China.
Under the terms of this arrangement, the Chinese government licenses just one global site for the export of Pulmicort Respules, which will help to treat a proportion of China's estimated seven million asthma suffers.
AstraZeneca is investing around $80 million in four new manufacturing lines by 2015 to meet a rise in demand from China as the government rapidly expands the health care system.
By the middle of the decade AstraZeneca's site will be producing 360 million units for the Chinese market alone.
Mark Fladrich, managing director of AstraZeneca Australia said: "The arrival of this line is a landmark day not only for AstraZeneca but for the many local businesses that will benefit as a result of our investment."
"Despite the high Australian dollar, and the trend for manufacturing businesses to relocate to Asian countries where costs are lower, we're actually investing and expanding our manufacturing operations with locally manufactured equipment which is good for the economy and good for jobs," Mr Fladrich said.
Fladrich expects the investment will benefit several niche local businesses, from plastic manufacturers to delivery companies that currently support the site. AstraZeneca estimates that for every $1 of medicines they export, the local economy benefits to the tune of $1.20.
"Our manufacturing model is based on high-tech production that is difficult to replicate elsewhere. We also have a workforce that can get efficiencies out of the machines that even the makers think isn't possible, Mr Fladrich claims.
The production line that was delivered was made in Melbourne by specialist machine designers Andrew Donald Design Engineering.
The line was built from scratch to AstraZenecas's custom design specification making the machine unique in the world. It took a team of 40 people nine months to produce.
Barry Hendy, general manager of Andrew Donald Design Engineering said: "Our partnership with AstraZeneca is an important one to our business and we're very proud that Australian made machines can enable local manufacturers to compete internationally and contribute to better health outcomes for people suffering from asthma in China."
Former Australian tennis great and Federal Member for Bennelong John Alexander MP was recently at AstraZeneca's site in his Sydney electorate to witness the arrival of the production line.
"This is a clear demonstration of what can be achieved through the initiative of a determined management that invests in the skills and training of their workforce, he said.