7 Axis Precision Machining using Robots
17-02-2014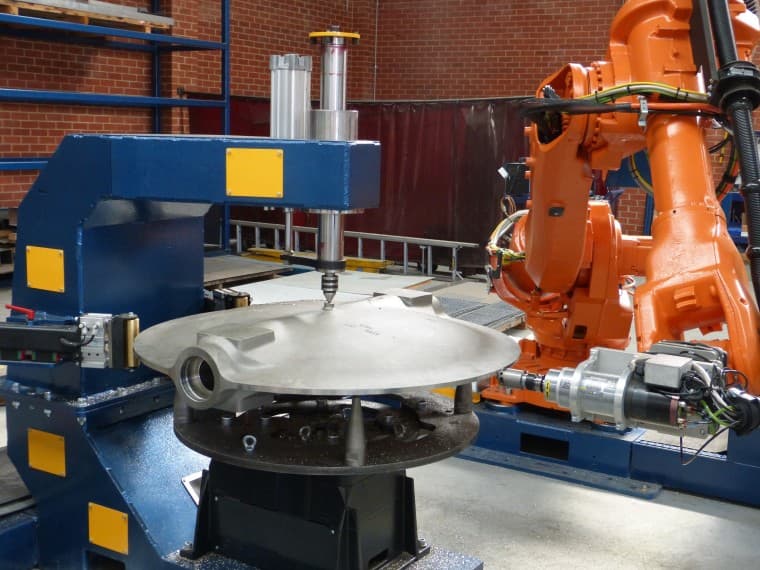 Automation and Robotics Specialists CSF Robotics has devised a unique 7 axis, robotic machining system with a multi axis compliant head, for machining & finishing of heavy industrial butterfly valve gates.
This innovative purpose built system was designed to meet one of their international customer's many needs. The customer's main objectives were to reduce processing time and therefore increase product output, maintain product tolerances to ensure high standard of quality and to reduce operator's risks of injury from long overdrawn processing time, and physical handling of the dangerously heavy products.
Prior to working with CSF Robotics, the Thailand based customer (part of a large German manufacturing group) was grinding and finishing these products by hand taking as long as 5 and half hours to complete just one valve. With this special robotic machining cell now in production, processing time has been reduced to just 45minutes.
This type of design approach to machining would suit most manufacturers that need post machining & finishing of their products that would otherwise be too difficult using conventional CNC machines on the market today. Typically these products need to be hand finished leading to higher processing costs and reduced precision.
CSF's robotic cell has an automatic tool change system that can house many tools for a variety of machining and finishing processes, enabling optimum process time. Included in the cell is an automatic pad changing system for fast replacement of consumable materials such as sanding and linishing pads.
This Automated Robotic systems, is designed to machine, linish and finish the edges or faces of the product in an efficient and safe way to ensure the highest standards of precision and uniformity.
CSF Robotics developed a vertical type chuck system, in the style of a vertical borer to rotate the part so as to tend to it like a lathe, but using the robot to machine like a milling machine. This feature allows products ranging from 300mm in diameter to over 1,000mm in diameter to be precision finished. A special purpose rotator can also be changed out for fixed tables for clamped products in jigs or even vacuum tables.
This advancement in machining opens up opportunities for a multitude of uses from post machining after welding to remove excess expulsion or even weld beads, to the bevelling of products for weld preparation or even 3D machining in areas that a conventional CNC cannot do.
This machine can handle a multitude of materials also. In this application stainless steel, super duplex and marine bronze were perfectly machined. The system could be easily modified to process timbers or even plastics.
CSF Robotics has a vast knowledge in specialised automated solutions and we're sure we can tailor a system to meet your needs.