600 Machines shine at EMO Hannover
22-11-2013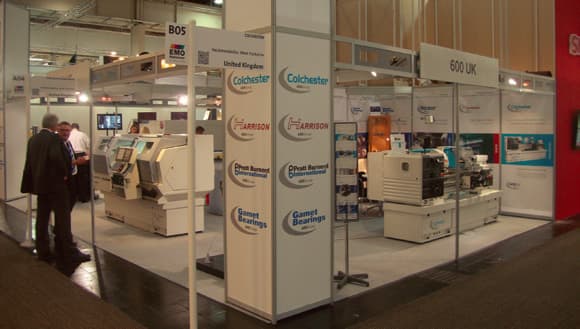 600 Machine Tools, a world leader in the manufacture and distribution of state-of-the-art machine tools and ancillary products, was represented with a dazzling display at EMO Hannover 2013 in Germany earlier this year.
The company was one of more than 2000 exhibitors at the world's largest trade show for machine tools.
600 Machines is part of the Yorkshire based 600 Group, Europe's biggest manufacturer of lathes.
Machines on the 600 display stand included Colchester and Harrison's world famous centre lathes, Alpha combination CNC lathes, and the new Tornado CNC production lathe.
As in previous years, many were sold directly from the stand.
Ironically, the Alpha 1400XS manual / CNC lathe was purchased at the show in Germany by a respected English precision-engineering company – Norman Precision of Gloucestershire – adding another 600-built machine tool to its trio of Harrison lathes.
Launched at the show, the Gripfast combination power chuck from Pratt Burnerd International (PBI) proved to be a real winner with existing and prospective customers from many countries.
This chuck comes into its own when used on production CNC turning centres for medium to small batch production, helping operators to increase productivity with minimal non-machining time. It is currently used, as standard, on Colchester Lathes' new Tornado CNC production turning centres, ensuring high speed, high accuracy turning, with rapid component changeover.
Also making its debut at EMO 2013 was the new Tornado T2M compact 3-axis turning centre, which has been designed to handle even smaller complex parts than previously. It is equipped with full C axis, spindle disc brake, and driven tooling to make radial and axial milling, drilling, boring, and tapping easier than ever.
The T2M provides an even more robust manufacturing platform than its predecessor, ensuring greater accuracy and reliability than ever before. The new models incorporate the Fanuc OiTD control system, with Colchesters' unique bespoke Manual Guide i features, and its 100 percent conversational programming system.
Based in the original Roman capital of Great Britain, Colchester, the 600 Group company Gamet Bearings attracted many enquiries for its high-precision tapered roller bearings. These are made under a rigorous QA regime that is accredited to BS EN ISO 9001.
Sales director of 600 UK, Howard Bamforth, said: "That was the best EMO show we have had. We achieved our main goal at the show, with a new record for serious new enquiries by visitors from all over the world."
600 Machines