600 GROUP ADDS SE ASIAN DISTRIBUTORS
04-07-2017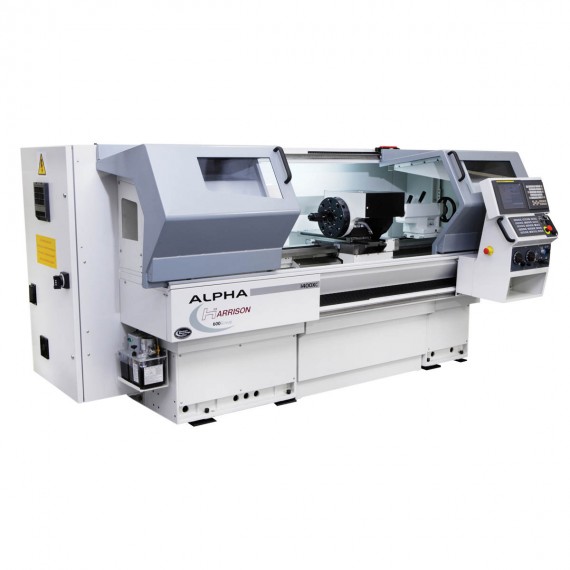 The all-new Harrison Alpha XC combination CNC lathe
Against a background of explosive growth in Thailand and Indonesia, Steve Drummond, SE Asia Sales Manager of Sydney-based 600 Machine tools, has been on a trade mission in the region, designed to further strengthen the company's distributor network. This followed a highly successful participation in the TIMTOS exhibition in Taiwan.
In Bangkok, he met with senior executives of Min Sen Machinery, which is now the exclusive representative in Thailand for the globally famous 600 brands, Colchester, Harrison, and Pratt-Burnerd.
Says Drummond: "Min Sen is one of the biggest machine tool suppliers in Thailand, and we are delighted to have this respected company in our Asia-Pacific distribution network."
He notes that the Bangkok-based distributor has particular strengths in two of 600 Machine Tools' most important market segments: government, and education and training.
Another newcomer to the network – Indonesia's Kawan Lama, which translates as 'old friend' – is also a major player in these two dynamic market segments.
A giant family company based in the capital city of Jakarta, Kawan Lama Sejahtera, services the needs of such industries as automotive and transport, construction, mining, forestry, manufacturing, and national and provincial government.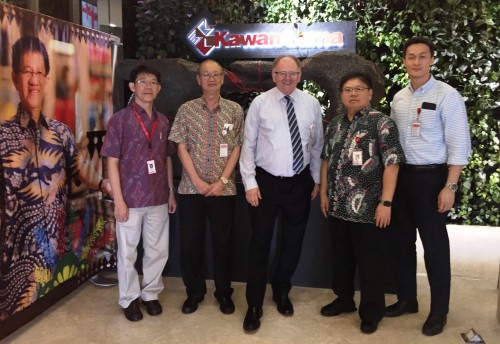 L to R: Ferry Ardiwinata (Sales Director, Kawan Lama); John Chee (Product Manager, Kawan Lama); Steve Drummond (SE Asia Sales Manager, 600 Machine Tools); Tony Sartono (Managing Director, Kawan Lama); and Vincent Mintarja (General Manager, Kawan Lama)
Drummond had the opportunity to undertake sales training with both these new distributors, and noted the thirst for knowledge evident in management and staff: "Specifically, they were very keen to learn about the 'the mill-turn phenomenon' that is the all-new Harrison Alpha XC combination CNC lathe," he says.
"The breakthrough XC can conduct off-centre drilling and boring, hexagonal milling, and much more. What this remarkable combination CNC lathe gives workshop is the ability to perform secondary operations that usually require machining centres or expensive slant bed CNC turning centres."
The highly versatile XC range now incorporates driven tooling and full c-axis interpolation. This feature, a significant addition to the simple-to-operate CNC Alpha lathe, now allows operators to carry out secondary operations at the machine in one setup."
The 600 Group has created a short video, to demonstrate the capabilities and benefits of this remarkable combination CNC lathe. Visit https://www.youtube.com/watch?v=Lwh3t6XQnJE
Not fake news
Engineers at 600 Group UK are close to taking the wraps off a range of new machines that are due to make their official debut at the massive EMO Exhibition in Hannover between 18th and 23rd September.
According to Steve Drummond: "Two other machines from our conventional range had aroused considerable interest in Bangkok and Jakarta. The Colchester Triumph VS2500 variable-speed manual lathe sets new standards of performance with its combination of electronically variable spindle drive and a constant surface speed option."
"The result is a cutting performance far superior to standard centre lathes and many CNC machines. Precision, power and durability have been built-in to give many years of reliable performance from this heavyweight conventional lathe."
The Harrison M300 centre lathe has been designed to allow easy control of its comprehensive capabilities, making it an asset in the toolroom, apprentice training, and secondary and tertiary education.
It has the power to deal with heavy metal-removal, at the same time offering precision for fine tolerance turning, with routine servicing requirements kept to a minimum.
Getting a grip
When the Gripfast combination power chuck was introduced to the Asia-Pacific market at the TIMTOS exhibition in Taipei by 600 Group company Pratt Burnerd, workshop managers from all over Asia crowded the demonstrations.
Asia-Pacific distributors and their major clients could immediately see the time-saving advantages provided by this new product. Many were surprised when they saw that the Gripfast chuck converts from a three-jaw chuck to a collet chuck in just 40 seconds, and it also converts to a mandrel chuck.
In recent times, the world's best chuck has been complemented by the Gripsafe gripmeter, which accurately measures and records chuck gripping-forces within seconds.
As Steve Drummond says: "All chucks, both manual and power chucks, lose gripping pressure with age and lack of maintenance. A workpiece becoming dislodged from a spinning chuck becomes a missile! No-one wants to see an operator injury, or worse, when a simple test could save a lot of trouble."
Happily, the Gripsafe is suitable for use, on all makes and types of chuck, and has been developed to help customers comply with health and safety legislation, allowing them to ensure that their chucks remain fit for purpose.
Steve Drummond reckons that 600 Machine Tools is going from strength to strength in the Asia–Pacific marketplace, and highlights a recent comment from the Minister for Trade, Steven Ciobo: "We are a vibrant, diverse nation - full of opportunity, using innovation to lift productivity and increasingly plugged-in to the value chains of Asia and beyond."
600 Machine Tools
02 9674 4738
www.600machinery.com.au