Product News, Robotics, Materials Handling & Equipment
Published 01-06-2021
| Article appears in June 2021 Issue
5G-cable combination shows promise for fussy factory robots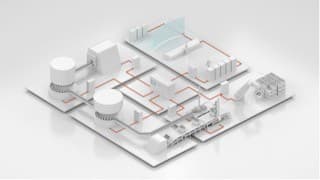 Typical system structure of a food and beverage system with PROFINET connection lines
A combination of wired and wireless communication should ensure optimum connectivity in most factory buildings and process and packaging facilities where workpieces are transferred from one process to another by drive and robot systems. That's the view of world cables and connectivity leader LAPP.
The family-owned company, which has established a full branch in Australia to service major industries, including food and beverage materials handling, processing, packaging and despatch, says stable and reliable response time without high latency is essential for controlling the measurement system, sensor or grippers on the last axis, the so-called end-of-arm tools, as well as for synchronisation and communication between the robots
"These days the end-of-arm tool is connected using cable-based data communication such as digital I/O, I/O link or Industrial Ethernet (PROFINET). However, a combination of wired and wireless communication can be useful under certain circumstances," says LAPP Australia General Manager Mr Simon Pullinger.
"The choice of wired and wireless depends very much on the application. It is often not so much a case of one of the other, but rather choosing the most effective and flexible combination to ideally meet present needs and prepare for evolving technology," says Mr Pullinger.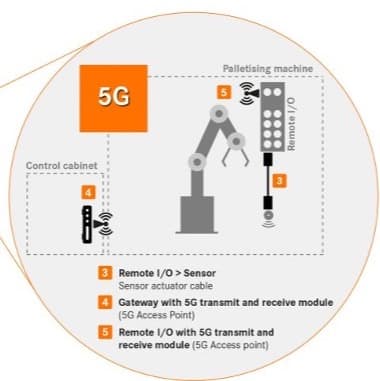 Three reasons for the use of wireless technologies
The wear on the data network cables in their composite dress packs is high, with high dynamics and due to ever-increasing work spaces required for the robots. This increases the risk of the systems failing.
Small batch sizes and frequent conversion require flexible communication concepts that enable the components to communicate with one another in almost real time.
The elimination of data cables in the dress pack reduces the weight and allows the robot to move more dynamically.
What 5G has to do to replace data cables
The control signals must reach end-of-arm tools such as a gripper in real time. It does not have to be at rest – Remote IO is wirelessly connected to the controller
The required latency of 4-8ms must be complied with. This will be feasible using 5G in the future. To put it in context, today's WLAN systems are limited to 10ms.
Possible localisation of the gripper to up to +/- 0.5 mm is not yet possible with 5G, says Mr Pullinger, whose LAPP Australia operation was established to deliver its resources, expertise and German top-quality standards to Australia at a time in the country's industrial development when such support is most needed to prepare diverse industries for a future in which they will use technology to compete cost-efficiently.
The company offers a one-stop shop for highly integrated, efficient and reliable systems which comply with the leading Australian, European and American compliance and quality standards.