56GBPS CONNECTORS FOR HIGH-SPEED NETWORKING APPLICATIONS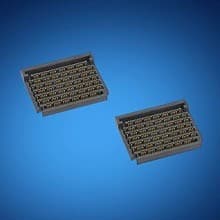 The Mirror Mezz connector system from Molex is available in Australia through Mouser Electronics. Offering data rates up to 56Gbps per differential pair, the footprint-compatible, hermaphroditic mezzanine connector lowers application costs with stackable mating and is ideal for space-constrained networking, 5G communications and server applications.
The system features a stitched ball grid array design that offers more cost savings than insert-molded ball grid array attachments. The stitched design reduces lead times and the connector design allows for simplified product matrix. An intricately designed terminal structure provides numerous mechanical strengths while also benefiting from cutting-edge electrical features for fast speeds.
The connectors can carry a maximum voltage of 30 VAC, with 1A maximum current per contact, and feature dielectric withstanding (hipot) voltage of 500 VDC. With a height of 2.5mm and an operating temperature range of -55 to +105°C, they are available in five-, 11- and 15-row versions.
Mouser Electronics
+852 3756 4700
au.mouser.com