50-MILLION STARTUP FUND SEEKS TO GROW
18-07-2017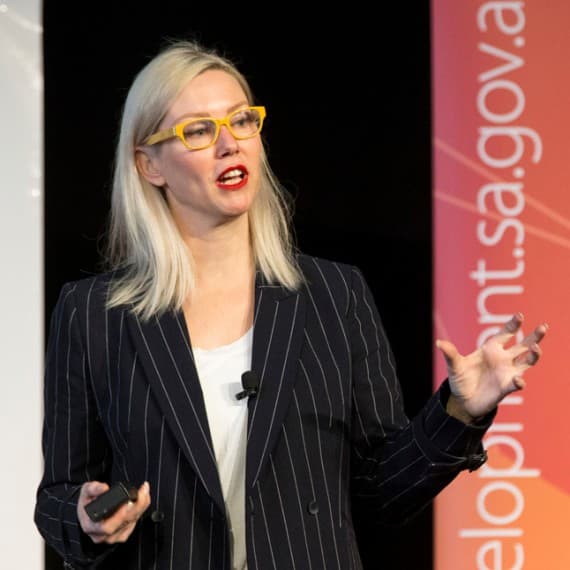 Elaine Stead, Head of Venture Capital at Blue Sky, speaking with entrepreneurs at the SouthStart Conference in Adelaide.
Taking the lead to incubate technology startups vital to the future of Australia's economy, the South Australian state government has established a $50 million Venture Capital Fund for startups, and appointed Blue Sky Venture Capital to manage it.
Elaine Stead, Head of Venture Capital at Blue Sky, told entrepreneurs gathered at the SouthStart Conference in Adelaide today she was excited by the investment prospects in the state.
"It's almost a greenfield opportunity here. South Australia has been a little bit unloved by the investment community over the last decade," she said.
"That's certainly worked well for us at Blue Sky. We've invested over $350 million dollars here over the last decade and $40million in the last two weeks."
Stead said the traditional underinvestment in South Australia made for interesting supply/demand dynamics in the state and she was keen to take advantage of this imbalance.
She said the matching fund would support ventures with high growth potential to secure funding and accelerate growth into national and global markets to help South Australia stimulate its economy and create jobs.
"The $50 million fund is to be matched with co-investment from other sophisticated investors both domestically and internationally because we are trying to increase links to smart money, networks and expertise both here in Australia and also overseas," Stead said.
"We will be looking for companies that are high growth, in any industry."
South Australian Minister for Manufacturing and Innovation Kyam Maher said the VC Fund was structured as a co-investment fund to enable the South Australian government to invest alongside private venture capital funds.
"This fund will turbocharge venture capital attraction to South Australia, providing a strong incentive for investors to look at opportunities in our state," he said.
Maher said the fund would work in conjunction with other support programs for innovation such as a $10 million South Australia Early Commercialisation Fund and the $7.6 million GigCity Adelaide ultra-fast internet.
Blue Sky Venture Capital provides venture capital to businesses in domestic and international markets, investing in companies across a range of industries, including e-commerce, consumer technology, medical devices and specialty pharmaceuticals. Blue Sky Venture Capital has a strong track record of performance, delivering a 25.4 per cent gross internal rate of return compounding since 2006 and is in the top quartile of Venture Capital Fund Managers globally.
It is a subsidiary of ASX-listed Blue Sky Alternative Investments Limited (Blue Sky). Blue Sky has offices across Australia and in New York with strong networks to 'angel' investors, high net worth investors, self-managed superannuation funds and institutional investors, including industry superannuation funds. The company has more than $3 billion in assets under management and has invested more than $250 million in South Australian businesses that employ approximately 1000 people.