43% PAY CUT DRIVES GRIFFIN MINERS TO STRIKE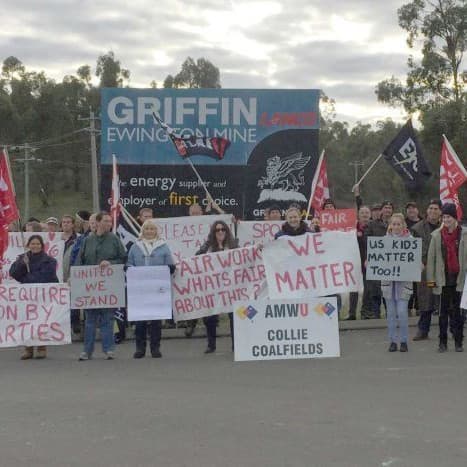 Image credit: Glenn McLaren
In a dramatic move, maintenance workers have walked off the job for 24 hours in protest over plans to slash their pay.
Under a recent ruling from the Fair Work Comission, the workers' rates would revert to award conditions from the 10th of July onward, resulting in a salary reduction of almost $50,000 per year.
About 200 workers engaged in the strike, backed by the Australian Manufacturing Workers' Union, which is set to protest the ruling in a hearing on July 5th.
Hopes appear low, however, as the past 16 months of negotiations have not been fruitful.
Union organiser Glenn McLaren said that "it's a community driven protest down here in support of our members ... who've gone out the gate for 24 hours to advance their claim."
"We've put offers on the table which include reductions in our member's take home pay but it doesn't seem to be enough. The company wants more and more and I don't think it's sustainable. Workers can't afford to live on the award."