3D PRINTING WITH YOUR PHONE SOON A REALITY
29-03-2016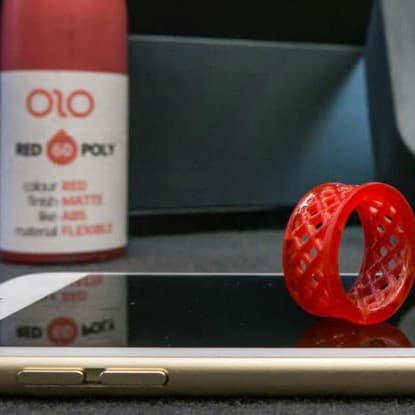 In a matter of a few years 3D printing has become a booming industry with everyone joining in. The possibilities are endless as the technology becomes more efficient and more affordable.
Now, there's a possibility to have a 3D printer in you home. The OLO is a $99 device that helps you turn your smart phone into a 3D printer.
The gadget is designed to be incredibly ergonomical; it's battery operated and weighs in at about 780 grams and measures 17.2 x 11.5 x 14.8 cm
With three parts: the reservoir, 100 gram bottles of coloured photopolymer resin to build your objects with; and a mechanised lid, the OLO might be the way to bring 3D printing to the home.
The OLO works by first loading the blueprint of your object into the OLO app, and then put your smart phone into the base of the reservoir. A piece of polarised glass is installed into the base, which your phone's touchscreen will be facing when set in place.
Then comes the printing part, which Drew Prindle explains over at Digital Trends:
"Basically, once you place the lid on top and the printer starts going, the app makes your phone's screen light up with a specific pattern. The polarised glass then takes all this light (which shines outwardly to give your phone a wider viewing angle) and redirects it so that all the photons are travelling straight upward. 
So as your phone's screen beams light up into the reservoir, the directed light causes a layer of resin to harden onto the build plate, which slowly moves upward as each new layer is created."
The team behind the OLO have developed a new type of resin to called 'daylight resin', which has been designed to wor with the white light produced by our phones.
The OLO is currently being funded on Kickstarter, and has already surpassed its target goal.
According to Gizmag, it raised 507 % of its $80,000 goal in two days.
First shipments of the OLO are expected to start in September.