3D PRINTING WITH LIVING CELLS MADE A POSSIBILITY
17-02-2016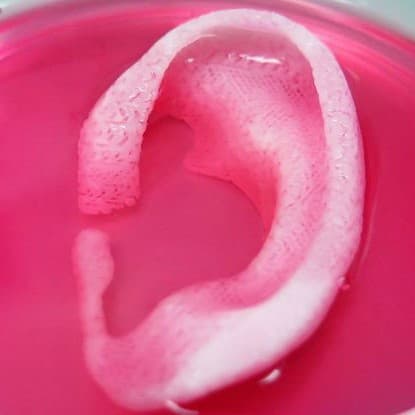 In a new leap for the 3D printing, scientists have used a 3D printed life sized body parts and tissues using cells as the material.
The new body parts are large enough to be used as replacements and are made to fit each individals needs.
"It can fabricate stable, human-scale tissue of any shape. With further development, this technology could potentially be used to print living tissue and organ structures for surgical implantation," one of the researchers behind the technology, Anthony Atala from the Wake Forest Institute for Regenerative Medicine, told The Guardian.
Before this, bioprinters have been utilised to print more simplistic replicas of organs, so scientists and researcher no longer need to test on the real thng. This new technology will allow scientists to print something effective enough to be used as a transplant.
One of problems faced is using cells for printing without killing the cells and keeping them alive long enough to complete the entire process, and how to create an accurate structure that can live inside the human body.
"Cells simply cannot survive without a blood vessel supply that's smaller than 200 microns [around 0.1 cm], which is extremely small," Atala told Gizmodo,
The team of scientists, ad Atala overcame this by combining the cells and a special form of gel and plastic that are designed to act as biological tissue.
This material allows the 3D printed structure to be implanted, then once in, the gels fades and then leaves the biological material.
"At the same time, the cells secrete a supporting matrix that helps maintain the implant's shape," Arielle Duhaime-Ross explains at The Verge.
"By the end of this process, the cells have reorganised themselves in a self-sufficient manner that negates the need for supporting materials."
The researchers have yet to implement the technology on humans but have made ears, bones, and muscle structures, and attached them to mice.
Only two weeks after the mice had been implanted with the 3D tissue the nerve cells started growing and in a five month trial, skull fragments implanted had formed new bone tissue with a blood supply,
 As Adam Feinberg, a biomedical engineer at Carnegie Mellon University who wasn't involved in the study, told The Verge:
"You're going to see a lot of exciting advances over the next year or two that will push this from the realm of science fiction into something that's close to impacting patients."