3D printing is everywhere: even outer space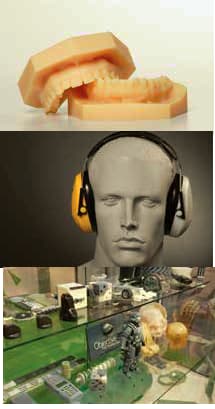 Matt Minio says any industry wanting to be at the head of the technology game must be involved in 3D printing.
Minio, the Managing Director of Objective 3D and a distributor of both Stratasys and Objet Technologies, believes 3D printing is the new industrial revolution.
More industries have adopted and developed 3D printing as the way of the future. This includes:
Aerospace
3D Printed and patented Fused Deposition Modelling (FDM) is the key to Aerospace Engineers success for prototyping, tooling and part manufacturing. FDM works with high performance thermoplastics, an "additive" standard which works by laying down material in layers. This technology is used to build jigs, check gauges, fixtures and end-use aircraft parts. Designers in aerospace have also been longtime supporters of FDM concepts for prototyping and modelling.
Architecture
Detailed architectural models can be 3D printed using Polyjet technology, an astonishingly smooth detailed surface ideal for any intricate model. Models can be produced in any array of different materials that when completed are ready for painting. You can build models in a range of colours and also print in a true clear material to simulate glass in your designs.
And you can instantly visualise not only the design at hand but the entire scope of the surrounding buildings as well.
Automotive
FDM Technology is used in the automotive industry for resilient prototypes and parts made from highperformance engineering thermoplastics.
The automotive industry also utilises Polyjet technology. Certain machines such as the Objet Connex 3D Printer has more adaptability than any other 3D printing technology, this is because of the ability to simultaneously print multiple materials at the one time, and even in the same part, making this a key area for automotive design.
Commercial and consumer products The brilliance of 3D printing means that professionals such as industrial and packaging designers, graphic artists, marketing staff and mechanical engineers all understand their products aesthetic and functional appeal with the use of prototypes. Consumer Electronics, Sporting Goods and Toys are some of the most popular 3D printed prototypes used today.
Defence
3D Printing in defence is one of the key industries driving 3D printing technology. Tough prototypes that can withstand vigorous functional testing and end use parts that can take chemical exposure and extreme temperatures explains exactly why 3D Printing through FDM technology is becoming one of the most adaptable and widest used technologies on the 3D printing market.
Digital dentistry
Digital dentistry is fast becoming the only way to produce 3D scanned models and a vast range of orthodontic appliances, while the 3D printer does the hard work the dental labs abolish the bottleneck of manual modelling. Dentists can now produce a complete model of the patients mouth and understand exactly what he/ she is about to do before the patient is even sitting in the chair.
Education
Education is one of the most important industries that 3D printing has been introduced to. 3D printing drives creativity where students get to see and hold their ideas. By bringing 3D printing to the classroom students are exposed to the same revolutionary technology they'll encounter in their careers. 
Medical
The medical industry is now using both FDM and Polyjet technologies, both of which offer biocompatible materials. It is taking advantage of 3D printing to improve patient care and advanced experimental work.
Prototypes for highly accurate surgical guides that imitate the feel and look of the completed medical device are available … fast. These include materials from rigid to flexible, clear to rubberlike.
3D printing in outer space
As we are well aware the 3D printing revolution is here on planet earth, now envisage the possibilities when NASA take this 3D printing technology to outer space. You may have heard about plans to support a new initiative to 3D print food for long missions to Mars, yet, have you heard about the plans to bring a 3D printer aboard the international space station. The introduction of the "Made in Space" 3D printer aboard the ISS in 2014 will be the first ever 3D printer specifically engineered for the zero-gravity conditions of outer space.
So What Does The Future Hold?
3D Printing is going to revolutionise the way things are made in ALL industries. Will we one day be able to build large, more complex designs such as bikes or cars? Will every home have a 3D printer? How will 3D printing change the world as we know it?
Minio says Objective 3D and Stratasys are excited to be a part of the 3D revolution.
"The team at Objective 3D have extensive experience in both FDM and Polyjet technologies and are ideally positioned to help businesses filter through the range of technology options, he says. "With two decades of hands on experience in 3D printing, Objective 3D can tailor a solution suitable for your business. "Any idea can become a reality."
Objective 3D
Ph: 03 9785 2333