Published 02-06-2020
| Article appears in June 2020 Issue
3D PRINTING TO COMBAT CORONAVIRUS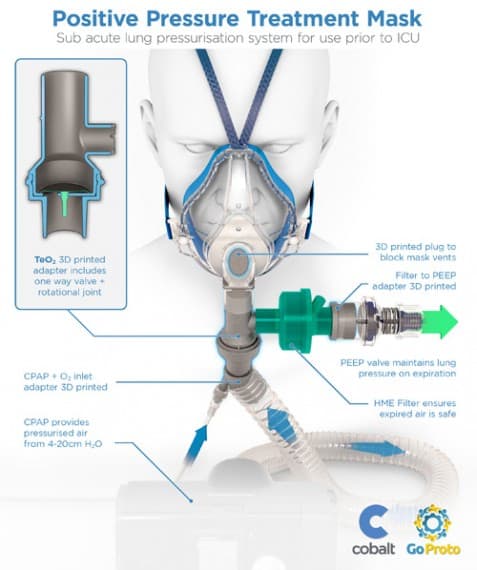 GoProto ANZ has teamed up with Erebus Medical and Cobalt Design to help hospitals in the fight against COVID-19.
Initiated in mid-March as the pandemic escalated in Italy and Spain, the project sought to prevent Australian hospitals becoming overwhelmed by a predicted peak in coronavirus patients in emergency departments and ICUs.
The trio, working on "Project Farnsy" as a consortium, took some initial work done by Italian and UK doctors to modify snorkel masks to produce simplified pressurised oxygen masks.
Cobalt spearheaded the design of several custom adapters to fit both the snorkels and CPAP masks. The result allows patients to receive pressurised oxygen, while exhaled air is filtered to protect medical staff.
3D printed adapter kits, supplied by GoProto, use HP's Multi-Jet Fusion (MJF) 3D printing technology, and provide biocompatible PA12 parts that can be washed and sterilised. These are currently undergoing non-patient trials under the supervision of Dr Carl Le from Erebus Medical. Dr Le's efforts have resulted in several hospitals and ambulance services reviewing the potential of this mask development as treatment for sub-acute COVID-19 patients prior to them requiring ICU ventilators.
After the trials, GoProto can quickly provide high volumes of the kits using HP production 3D printers. The design has been made available by Cobalt Design for other countries where hospitals are still under enormous strain or face a second wave and may need alternative recovery and treatment plans.
GoProto has been active in its efforts to help the medical industry, supplying face shields and a series of healthcare devices. Now that Australia has successfully flattened the curve, the GoProto team is now looking to support other industries in bringing new products to market by providing functional prototypes followed up by local production for volumes up to 10,000 units.