3D Printing boom shows no sign of slowing down
08-07-2014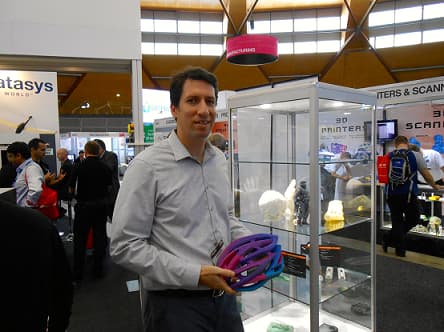 With significant advancements in technology in recent years, 3D printing is set to soon overhaul traditional methods of product development and manufacturing. 
Research released earlier this year found that additive manufacturing/3D printing has grown by an average of 32.3 percent each year for the past three years.
Wohlers Associates, a research consultancy focused on additive manufacturing and 3D printing, has been tracking the industry for more than 25 years. 
Its latest research shows the market for 3D printing, consisting of all products and services worldwide, grew to $3.07 billion last year. 
Compared with an averaged 27 percent growth rate over the past 26 years, the compound annual growth rate (CAGR) of 34.9 percent is the highest in 17 years. The CAGR for the past three years (2011–2013) was 32.3 percent.
Wohlers Associates believes the industry will continue strong growth over the next several years, fueled by sales of under $5,000 "personal" 3D printers, as well as the expanded use of the technology for the production of parts, especially metal, that go into final products.
One person who is not surprised with the meteoric global growth of 3D printing is Ido Eylon, Stratasys' South Asia General Manager.
The word is spreading fast throughout the world about the benefits of 3D printing. 
"Asia-Pacific is the fastest growing market in the world for us," Eylon told Industry Update during a recent visit to Sydney. "We are committed to the Australia and New Zealand markets – we see a lot of potential here."
Based in Singapore, Eylon was in Sydney to inspect Stratasys' impressive display at the National Manufacturing Week exhibition in May.
Stratasys sponsored the event's inaugural Additive Manufacturing product zone – a star attraction for NMW visitors.  
Eylon says shows such as NMW play a key role in educating the market (mainly manufacturers) to the benefits of 3D printing technology.
"As industry leaders we (Stratasys) play an important role in educating the market … and people are starting to understand the benefits, he says.
"Education is a big part of our marketing strategy – it is key."
Has Australia been slow to embrace 3D printing technology?
"It's all about making people more aware of the technology … sometimes it requires stepping out of your comfort zone," Eylon says.
Eylon believes 3D printing offers many advantages over traditional manufacturing.
Though 3D printing will not replace traditional manufacturing "anytime soon", it is revolutionizing the way people make things.
With 3D printing technology, manufacturers can:
Save production time and put products into the marketplace much faster
Reduce the cost of error
Become more creative and 
Maintain confidentiality by producing prototypes in-house rather than outsource
Why choose Stratasys technology?
"Stratasys offers the widest range of options and solutions, says Eylon.
"If companies are looking for a general purpose solution, then we are the best choice they can make."
Stratasys, says Eylon, invests heavily in R&D and leads the way in innovation.
The company recently launched the new Objet500 Connex3 printer – the first multi-material, colour 3D printer.
The Connex3 is the only 3D printer that creates brilliantly coloured prototypes with a range of multi-material components including rigid, flexible, clear and durable.
The Objet500 Connex3 lets you incorporate as many as 46 colors into one prototype, from true jet black to sunny yellow to shocking magenta and hundreds of blended hues. 
With the Connex3 you can build rigid, rubber-like and clear parts into one model and offers hundreds of composite materials, blended right in the 3D printer. 
Manufacturers can produce prototypes that will resemble the actual end product.
"You don't want to make a decision on a prototype that is very different from the end product, says Eylon. "That's why we are striving to get our products to produce prototypes that are nearly identical to the real product."
Eylon says 3D printing is now being used by industry sectors across the board.
This includes defence, aerospace, medical, automotive, consumer goods and electronics.
"Anybody who makes a tangible product is a potential beneficiary."
Growth areas include the education and medical applications including body parts and dental.
As well as exhibitions like NMW, Stratasys' education also involves institutions such as universities.
"It is our job to educate the market and make sure the right message is out there," he says.
"NMW is part of the education process. It's a big show.
This year was the first time Stratasys has had a major presence at an Australian trade show.
"Many of the people who attend are our potential customers – beneficiaries of the technology we offer, says Eylon.
"We are here to spread the word and make sure everyone is aware of the benefits."
"We are looking to interact with them to explain and educate about this new revolution."
Stratasys will also be one of the major exhibitors at the new Inside 3D Printing Conference and Expo, to be held in Melbourne on July 9-10.
Run by Mediabistro (formerly WebMediaBrands), the expo debuted in New York's Javits Centre in April last year, with follow-up shows at San Jose and Chicago before being held in Singapore for the first time last October.
"We are looking forward to that show to further spread the message," says Eylon.
So will every home have a 3D printer in the future?
"It's hard to predict the future, says Eylon. "But what I can say is that 3D printing is becoming more accessible and more affordable for the masses."