3D PRINTERS CLAIM HIGH ACCURACY AND REPEATABLE PRECISION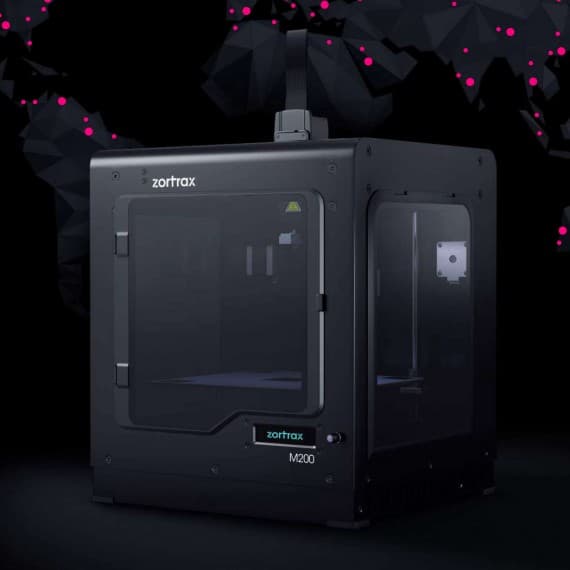 Two new high-reliability devices from Zortrax have been added to the range of 3D printers available from RS Components. Designed for detailed, accurate and cost-effective rapid prototyping, the printers can also be used for low-volume production across industries such as automotive parts and robotics.
The reasonably priced Zortrax M200 and M300 3D printers use single-extruder layer plastic deposition printing technology, and are claimed to provide high dimensional accuracy and repeatable precision. This means they can duplicate models without any loss of the original appearance, as well as completing extensive print jobs with almost no maintenance.
The M200 package includes the 3D printer, a starter kit, the dedicated Z-Suite software bundle, and compatible material. The M200 printer has workspace dimensions of 200 x 200 x 180mm, offers 90 to 400m resolution, wall thicknesses from 400 to 800m and single printable point resolution of 400m.
Materials include Z-ABS, Z-ULTRAT, Z-HIPS, and Z-PCABS. The Z-ULTRAT filament comes in pastel shades of yellow, pink, purple, blue and turquoise; Z-ABS in white and pure black; Z-PCABS is a polycarbonate ABS ivory filament; and Z-HIPS comes in black. The range also includes materials that offer high resistance to mechanical stress, high temperatures and chemicals.
The M300 printer offers a larger 300 x 300 x 300mm workspace and 140 to 300m resolution, optimal wall thickness of 800m, and single printable point resolution of 400m. The M300 package comprises the printer, side covers, starter kit, the key to the Z-Suite software, and two spools of material.
Compatible with stl, obj, dxf and 3mf file types, both machines support Mac OS X/Windows 7 and newer versions, and have access to a helpful model library. Further accessories available for both machines include the Zortrax 40 x 40mm fan cooler and extruder cable with adapter.
The Zortrax M200 and M300 3D printers are available now in Australia from RS.
RS Components
1300 656636
au.rs-online.com