3D PRINTED TOOTH CLEANS ITSELF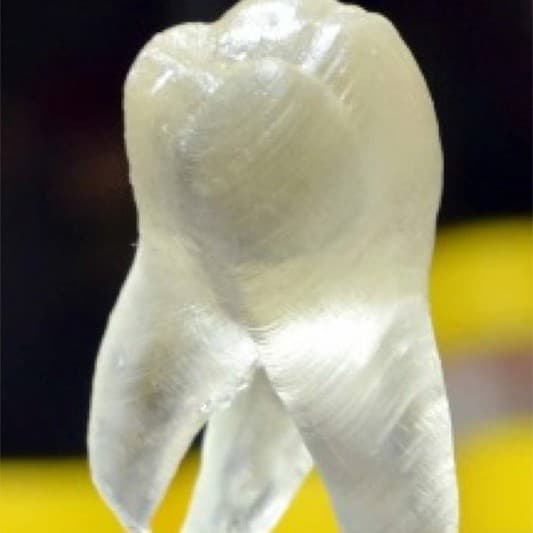 To some there is nothing worse than the prospect of having to visit a dentist for a filling or tooth extraction, thankfully with the power of 3D printing there may be another solution for the dental world
Researchers in the Netherlands have been able to successfully create a 3D printed tooth implant made from an antimicrobial resin that is able to kill harmful bacteria in the mouth, meaning a tooth that clean itself.
The plastic material used incorporates antimicrobial quaternary ammonium salts that are positively charged that can eliminate negative bacteria.
"The material can kill bacteria on contact, but on the other hand it's not harmful to human cells," said one of the researchers, Andreas Herrmann of the University of Groningen.
The addition of other alternative material into other polymers is a challenge in the 3D printing process, but the addition of active chemical substances such as the antimicrobial salts could prove to be a big push for the medical industry.
"[W]e have a prototype at hand that is suited for further testing in a clinical setting, including not only dental applications but also, for instance, orthopaedic ones like spacers and other polymeric parts used in total hip or knee arthroplasties," it states in the research paper.
"Moreover, the approach to developing 3D printable antimicrobial polymers can easily be transferred to other non-medical application areas, such as food packaging, water purification, or even toys for children."
In order to test the efficiency of the tooth, the researchers coated samples and placed them in bacteria known for tooth decay, with the material killing 99% of bacteria.
"For clinical use we need to extend this [research], and investigate the compatibility with toothpaste," said Herrmann.
The researchers are however, confident that for the 3d printed transplants to become the new norm.
"It's a medical product with a foreseeable application in the near future, much less time than developing a new drug