3D PRINTED MEAT, CELLS... AND MILK?
08-06-2017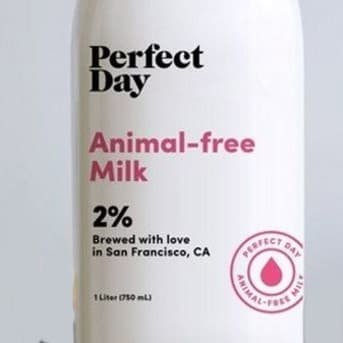 Straight from the "I never thought I'd write this sentence" department: New Zealand dairy farmers are feeling threatened by the impending commercialisation of 3D printed milk. 
A Sillicon Valley startup 'Perfect Day' may have commercially viable production processes for animal free, 3D printed milk, according to statements made by the head of NZ tech, Graeme Muller. 
He said, during a radio interview, that this technology "was going to be commercialized within the next year" and that "New Zealand needed to catch up."
Perfect Day, started by California-based biomedical scientists Ryan Pandya and Perumal Gandhi, is aiming to offer the best alternative to cow's milk yet: a genetically modified cocktail of proteins, fats, and nutrients that is nutritionally and practically equivalent to cow's milk, only vegan, lactose-free, and which produces up to 84% less carbon.
The process, which is still in development and not yet ready for the market, involves the use of 3D bioprinted proteins.  The liquid substance is created by manipulating a strain of yeast, using a printed substance containing bovine DNA which enables the yeast to produce casein; the protein found in milk.
This protein substance is then mixed with corn sugar and some other ingredients and left to ferment until a milk-like drink is made.
The strain of yeast the startup is using is called "Buttercup", because of course it is. 
While many are excited by the potential implications of this development, not everyone is entirely behind the idea, such as New Zealand First Leader and Northland MP Rt Hon Winston Peters, who said:
"To quote a rather famous slogan: 'you can't beat the real thing.' Not that it hasn't stopped some more excitable members of the commentariat from latching onto '3D printed milk' as a sign of dairying's impending apocalypse. What is a threat, however, is if we allow these synthetics to hijack the name 'milk' and names associated with meat we are seeing from artificial meat proteins."
Perfect Day is hoping to have its animal-free milk in grocery stores by late 2017, with a price similar to that of cow's milk.