3D PRINTED CAR GIVEN A TEST DRIVE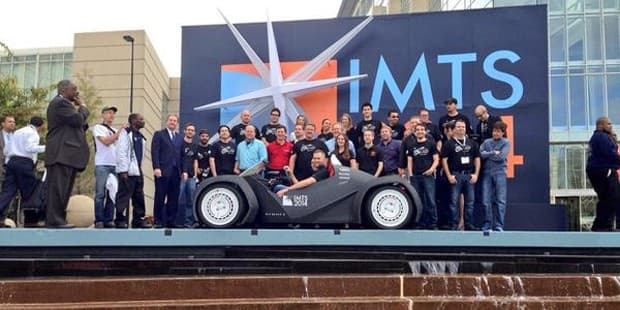 Several groups worked together to build a driveable 3D printed car during the six-day International Manufacturing Technology Show in Chicago last week.
In a press release, Local Motors called the 3D printed Strati a first-of-its-kind concept car. Local Motors worked with the Association for Manufacturing Technology, Cincinnati Incorporated and the Oak Ridge National Laboratory to 3D print and rapidly assemble the car during the six-day event.
Engineers started out by 3D printing the car using a process called Broad Area Additive Manufacturing (BAAM).
Local Motors said it held a six-week challenge and received more than 200 entries from 30 different countries before chosing the Strati as the winning design.
Michele Anoe of Italy submitted the Strati design, which calls for the car's body to be 3D printed in a single piece – an approximate 44-hour process.
The 3D printed car is made from ABS plastic that has been infused with carbon fibre. Local Motors said it believes it is the first company to ever attempt to print both the body and chassis components of a vehicle together, although others have built cars before using a 3D printing process.
After the vehicle was printed, Local Motors said it outfitted the car with mechanical components, such as motors, wiring, suspension and a battery.
For a finale, the completed Strati was showcased and then driven around the venue. However, Local Motors said the car could not be driven on city streets due to vehicle regulations.