3D PRINT NEW KEYS, PARTS… AND BONES?
01-05-2016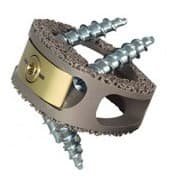 As the 3D printing industry surges in popularity, there seems to be no end to the things that are better off being addtively manufactured.
This year, tens of thousands of 3D printed skeletal replacements will be implanted into patients all around the globe, replacing the more traditionally made titanium implants.
Not only is the manufacturing process easier and more convenient: 3D printing opens up a safer way to make implants that are customized to a patient's unique skeletal structure.
Doctors and surgeons increasingly recognise that healthcare is intensely personal, and it doesn't get more objectively individual than the shape of our skeleton, which is influenced by our genes, our lifestyle, and the forces and stresses we put on it over the years.
Expecting a tradie to take the same implant as a manager isn't always practical, even if the implant is going to be roughly the same size.
Due to these factors, implants are often complex. They replace parts of the skeleton that are geometrically convluted, or undergo significant force. 3D printing reduces the wasted time, the material, and the intricate procedures needed to make these structures.
While a great deal of research and development needs to be done (less than 1% of implants are custom-made for patients currently), it is clear that the future of implants is in additive manufacturing.