3D PEN PRINTS NEW KNEE JOINTS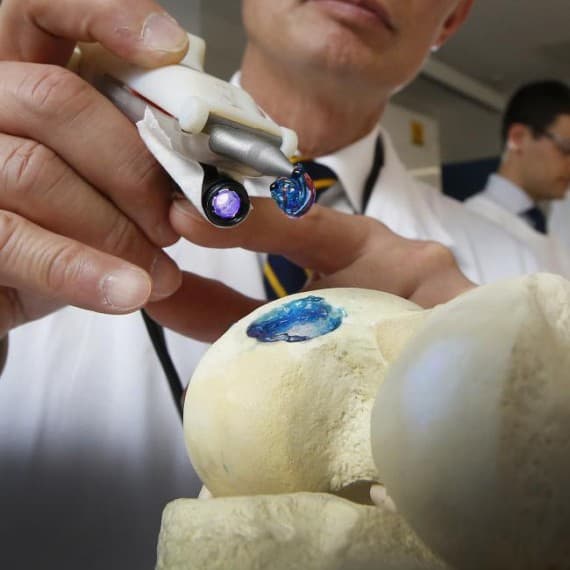 3D-Printing pens have been a gimmick for artists until now, but new breakthroughs have pushed this novelty tech into the medical arena. 
 Several Australian institutions, including the University of Wollongong, St. Vincent's Hospital Melbourne and its Aikenhead Centre for Medical Discovery (ACMD), teamed up in 2016 to develop the BioPen; a 3D printing pen filled with stem cells that allows surgeons to draw new cartilage into injured knees.
Testing has been extensive, and Melbourne surgeons have successfully tested this bioprinting pen on six sheep.
The BioPen uses an ink that's similar to toothpaste, which mixes a gelatine substance with stem cells taken from the patient on the day of the surgery.
Dr. Claudia Di Bella, an orthopaedic surgeon at St. Vincent's Hospital, said, "[The pen] prints that in a material which is called hydrogel that allows your cells not just to survive but also increase in numbers and then make certain types of tissues, and in our case cartilage. The goal would be to try and repair certain injuries like cartilage injuries that at the moment are impossible to repair completely."
These stem cells, put directly onto damaged areas, grow into the exact kind of tissue that's necessary – currently, it's knee cartilage.
After placement, an ultraviolet light, affixed to the pen, dries the ink mixture on contact so surgeons can fill in the damaged area of the knee and build up layers. The BioPen was recently tested by treating 1 cm cartilage tears in six sheep, which were suffering from knee injuries not unlike those common to Australian football players.
After a brief rehabilitation, the sheep were found to have regrown cartilage that was much stronger than the repair cartilage that grows after current treatments; the sheep were doing so well, in fact, that they were able to bear weight.
Philip Dalidakis, Victoria's Small Business, Innovation, and Trade Minister, called the breakthrough astounding.
During the sheep trials, Dr. Di Bella said that the technology was easy to use, and that surgeons did not run into any complications.
The hope is for human trials for the BioPen to start within a year, with results of the sheep trials being used to justify a grant from the National Health and Medical Research Council, which would be used to "perfect the treatment over the next three years."