3D METAL PRINTER MAKES ITS MARK IN DARWIN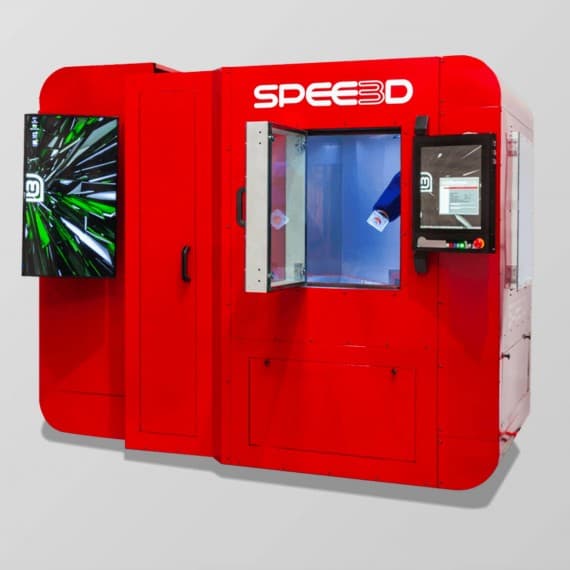 How much does it cost to print a copper flywheel? Just $4.60 apparently - assuming you have a LightSPEE3D metal printer.
The LightSPEE3D metal printer was designed and made in Australia, with a stated intention of targeting speeds 100 to 1000 faster than traditional 3D printing.
And while the machine had its Genesis in Victoria, it now finds itself in the Northern Territory at the Advanced Manufacturing Alliance (AMA) at Charles Darwin University (CDU). The AMA is an open alliance founded by SPEE3D and CDU.
The flywheel in question was printed this week, and took just 11 minutes and 38 seconds to produce.
Steven Camilleri is one of the inventors of the LightSPEE3D technology. He reckons that although traditional 3D metal printing has improved simplicity and brought immediacy to the manufacturing process, there has been little uptake in the casting industry. This is because because the old technology does not deliver the speed and uniformity in strength and shape required.
"SPEE3D has produced and patented a truly innovative and transformative advanced manufacturing technology," says Camilleri. "The LightSPEE3D machine demonstrates the strength, repeatability, and mass production capabilities of tried-and-tested metal casting together with the simplicity and immediacy of 3D printing."
Prof Lawrence Cram is Deputy Vice-Chancellor and Vice President Research and Research Training at CDU. He says that the AMA will develop applications for the SPEE3D's high speed metal printing processes that will contribute to Australia's capacity in advanced manufacturing.
"The AMA hub will accelerate research to assist with commercialising the technology, and also will launch new training programs," says Professor Cram.
"While the technology has global applications, we also expect to deliver wide-ranging impacts across the Territory including producing new tools, technologies, and skills, and generating professional, university-qualified jobs."