3D Mapping on the go
31-08-2010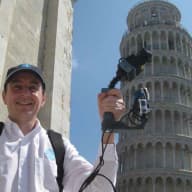 Producing reliable 3D maps of unknown environments can be a useful tool for many applications from street mapping, real estate and mining surveys to searching disaster sites or recording the exact details of a crime scene.
But creating these 3D laser maps quickly, reliably and in any environment is currently a major challenge for business and industry.
Current mapping solutions require expensive laser scanners and skilled engineers to survey the environment and some won't work accurately in areas with poor GPS signal. For a multi-storey building this might also mean waiting days or weeks for maps to be collected, processed and made available for download.
Now UK start-up GeoSLAM will offer the world's first mobile handheld laser mapping system together with a cloud-based 3D mapping service to the international market.
The unit, which uses Zebedee technology, consists of a lightweight laser scanner and inertial measurement unit.
Users can generate a 3D map simply by walking through a desired location.
The laser scanner rocks back and forward on a spring scanning the environment, while a battery pack and laptop for recording the 3D map data and uploading it to the web is stored in an easy to carry backpack.
Zebedee has advantages over traditional systems:
Rapid Scanning of Large Areas – scan at walking speed
Portable – the scanner goes wherever you go
Long Lasting – data capture all day long
Versatile - ideal in areas with no GPS
Cost Effective - no need for expensive software or high-end computers
Simple to use – only basic training required to operate
Automatic Data Processing – no processing staff required
Lightweight – less than 700g
The Zebedee system has the potential to reach users all over the world giving anyone the ability to rapidly and cost effectively generate 3D maps in any environment.
"Our technology enables a suite of 3D mapping applications to be developed in wide ranging areas including education, cultural heritage, security, environment, property, emergency services and safety," said Dr Ian Oppermann, Director of the Digital Productivity and Services Flagship.
The partnership between CSIRO and 3D Laser Mapping will see the commercial market of the Zebedee system where users can utilise 3D Laser Mapping's data processing facilities, cloud-based mapping service, sophisticated software solutions and dedicated support staff.