Published 14-07-2020
| Article appears in June 2020 Issue
A 25 YEAR ODYSSEY AGAINST THE TIDE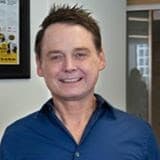 In the winter of 1995, South Africa won the Rugby World Cup, Batman Forever ruled the box office, and the first-ever edition of Industry Update was ushered into the world by publisher Scott Filby.
Since its inception, Industry Update has gone on become the leading manufacturing publication in Australia.
As the 114th issue (an 80-page bumper edition) hits the stands (remember those?), we take a look back at what made Industry Update into Australia's largest circulating manufacturing magazine, and what's kept it that way.
Industry Update began as the brainchild of Scott Filby, then a junior advertising manager fresh from 'Plantline' magazine, a few editions of which still sit in his office as a reminder of his roots (no pun intended).
"I'd built a series of strong relationships during my time in the publishing world," says Filby, who started in advertising in 1989.
One client told Filby he was the best salesperson they'd worked with and suggested he create his own publication.
"They had such confidence in my abilities to self-publish a manufacturing magazine that they helped fund the first edition," he says.
"From there, 25 advertisers came on board and Industry Update was born."
The eight pages that comprised the debut issue of Industry Update featured product stories and advertorials.
The response from advertisers was immediate, and according to Filby, they were strong, quality responses from high-level executives and managers.
"The interest from the industry was huge," he says.
"I already had a strong client network from my time in advertising, and once the first issue was out I was easily able to build on that."
Once the first edition landed, Filby set about shaping it into his vision for the ultimate manufacturing publication.
"Trade magazines don't usually have cover prose, and I hated that," he says.
"I didn't hesitate to implement editorials and opinion pieces, and that's been the formula for Industry Update ever since."
For its first 13 years, Industry Update published four times a year. In the midst of the 2008 Global Financial Crisis, Filby did what has become something of a trend for Industry Update: he defied market trends.
"That year, we jumped from four to six editions per year," he says.
"This was at a time when our competitors were publishing 12 editions a year, in the middle of the worst economic conditions in our lifetime. But instead of downsizing, as they were later forced to, we grew."
Filby says defying market trends is crucial to succeed in print media, which has become a much tougher industry than it was in 1995.
"To defy market trends means you have to understand the market and the print sector, and trust your own intuition," he says.
"You have to do that to be able to get this far."
Other trade secrets that have kept Industry Update in high circulation include maintaining strong relationships with clients as well as business-to-business networking.
"The old-time approach of great relationships and long lunches has obviously worked, because Industry Update is still going strong," Filby says.
"And don't worry," he laughs. "There's still plenty more to come."
At 80 pages, this 25th anniversary issue is one of Industry Update's finest and comes at another time of great challenge for the industry – the COVID-19 pandemic.
"That we're able to celebrate our 25th anniversary in such style during COVID is even more impressive, because it tells me the industry still wants us here," Filby says.
The advent of digitisation and media convergence has driven print media to the verge of extinction, but Filby says Industry Update's long-term business networks sent a clear message that encouraged him to – once again – defy market trends.
A recent industry market survey in fact indicates the most trusted outlets for the sector are industry journals.
"They want simple access to information, whether that's an online newsletter, a print magazine, or even a TV show," he says.
"We're able to provide that for them, and at the risk of sounding arrogant, that's why we always come out on top."
Here's to another 25 years of Industry Update!