$25 MILLION PLANT CATERS FOR CIRCUIT BREAKER DEMAND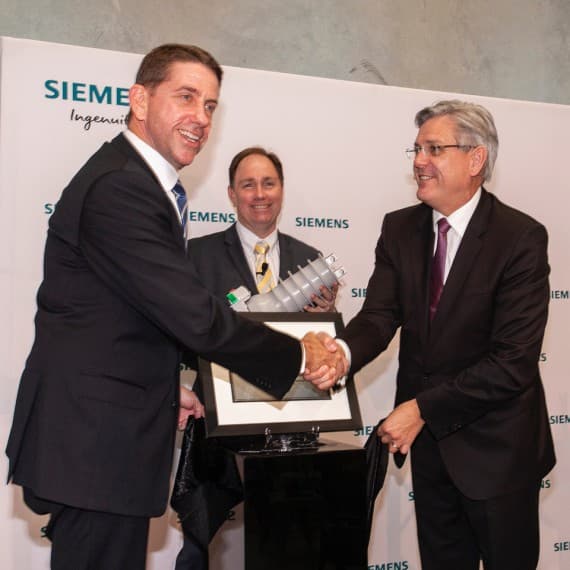 Minister Cameron Dick joins Brett Watson and Siemens Australia Chairman and CEO Jeff Connolly at the opening
Siemens has unveiled its new manufacturing facility in Yatala (Queensland), which has been set up to support the growing global demand for the locally developed Fusesaver medium-voltage circuit breaker.
The new factory is part of an ongoing $25 million investment in manufacturing and research of Australian made products for energy utilities worldwide, including a new Compact Recloser.
Speaking at the launch, Cameron Dick, Queensland's Minister for State Development, Manufacturing, Infrastructure and Planning said: "Queensland has a proud history in developing smart infrastructure, including Fusesaver, which was invented in a garage in Slacks Creek before Siemens acquired it in 2012 and gave it a global platform for growth.
"The fact that a product of Queensland innovation is now being exported to 30 different countries shines a spotlight on our state's manufacturing capability and potential.
"This investment by Siemens represents a strong vote of confidence in Queensland's manufacturing sector, which employs 170,000 people and contributes around $20 billion a year to the state's economy."
London-based UK Power Networks recently put in a Eur 1.5 million order for Fusesaver devices – the largest ever from outside Australia. And Victoria-based Powercor has just installed more than 600 Fusesaver units across its network.
Fusesaver cofounder Dr Brett Watson says the device is still the fastest outdoor circuit breaker on the market. "Since we developed the technology," he said, "it has helped reduce electricity outages in rural networks worldwide and, in the process, saved many millions of dollars in costs for providers. We've been overwhelmed by the response but also not surprised by it given how much money and time the product saves."