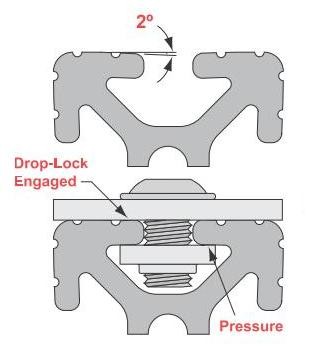 The 2 Degree Drop-Lock Feature
The 2° Drop-Lock Feature is one of the many practical aspects of the 80/20 product line that many of our competitors do not have. This drop-lock consists of a 2° decline of the T-slot flange. When a fastener is tightened to (or beyond) the necessary torque, the flange will flex up to the adjoining profile, thus creating pressure which prevents the fasteners from vibrating loose.
All 80/20 T-slotted profiles have the Drop-Lock Feature

When engaged, the connection is vibration proof.

Works with all 80/20 fasteners.