12 ways to make your workplace safer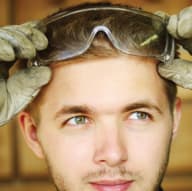 Whether your business is small or large, injuries can happen anywhere.
Safety should always be your top priority, and a strong focus on safety can also save your business crucial time, money and effort in the long run.
WorkSafe Victoria has compiled these handy tips to help you create a safe environment for you and your team:
1. Fire
Ensure extinguishers are in place, maintained and clearly marked for type of fire. All fire exits should be clear and exit signs illuminated.
2. Slips, trips and falls
Work areas should be kept clean, uncluttered and well lit. Employees should wear suitable footwear.
3. Electrical
Check that plugs, sockets and switches are in good condition. Floors should be clear of extension cords, and these should be tested and tagged. Safety switches must be hardwired into electrical switchboards.
4. Chemicals
Check that your chemicals register and Material Safety Data Sheets (MSDS) are current. Chemicals should be handled and stored to MSDS guidelines, and employees who use chemicals must be trained in their safe use.
5. Storage and racking
Racking systems must be stable and in good condition, and display and comply with the specified Safe Working Load. Safe access should be provided to storage areas.
6. Forklifts
Forklift operators must have a current licence and always wear a seatbelt. Forklifts should be checked daily and regularly maintained. Traffic management plans and signage must be present, and pedestrians should be physically separated from forklift traffic as much as possible.
7. Manual handling
Eliminate hazardous manual handling. Provide adequate space for work or storage, and trolleys to move items. Ensure that work areas are between knee and shoulder height, and are close to the worker's body to avoid awkward lifting.
8. First aid
Ensure your first aid box is readily available and appropriately stocked. Qualified first aid staff must be available and known to all employees, and sufficient amenities should be present for all staff.
9. Asbestos
All asbestos must be correctly labelled and an asbestos register prepared and up to date. Asbestos in poor condition must be removed by a licensed asbestos removalist.
10. Machinery
Provide safe access to machinery and equipment and ensure moving parts are properly guarded. Make sure other hazards associated with machinery such as fumes, chemicals and noise are regularly assessed.
11. Noise
Eliminate or reduce noise from loud processes or equipment. Where applicable, make hearing protection available and display signs that it must be worn.
12. Heights
Mezzanine floors must have safe access and fall protection, handrails should be secure and steps well maintained.