| Article appears in October 2021 Issue
"Everyone In This Business is Multi-Skilled and Enormously Talented"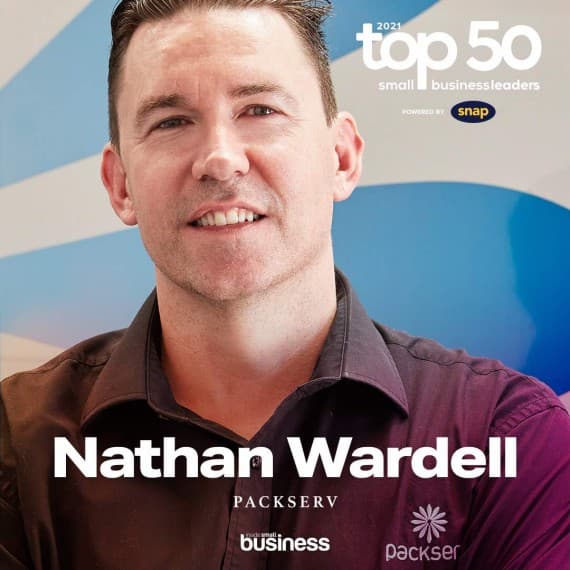 Nathan Wardell of Packserv is bringing ground-breaking new capabilities to the marketplace but remains a team player
When he was named one of the Top 50 Business Leaders in Australia, Nathan Wardell was "surprised and delighted", but was quick to add "it's probably a compliment for the team rather than me personally, but that's the nature of the award. It was lovely to receive such an acknowledgement when so many of us are under pressure."
Displaying remarkable agility, this Managing Director has developed machinery at Packserv that has never been seen before in the industry.
"The machinery being developed at the moment features the latest in PLC control and we are working through the capabilities of IIoT (The Industrial Internet of Things) and adopting techniques from Industry 4.0 and 5.0 for integration into larger production lines," he explains.
"We have always had a focus on Modular Automation, the ability to add and subtract processes from a production line quickly and painlessly by making machinery talk to each other individually. There are a few businesses out there that specialise in larger more automated machines, but everything is attached together, and adding and subtracting processes simply isn't possible.
"We bring to market a unique range and ability, I describe it as big adults' Mechano set, where you can build the production system based on individual components that can be added and subtracted at any time. This is helpful in various situations, not the least of which is whole factories or even production lines that are inoperable because of an issue with one machine that can't be exchanged… that simply isn't the case with Packserv systems.
"For large enterprises the bigger more automated machinery and production lines feature all sorts of high-end technology, unfortunately that technology is only available to businesses acquiring machinery in that end of the market. The developments we are pursuing is pulling that technology down and developing it, at a size, scale and cost that makes it available for SME FMCG manufacturers allowing them to compete on a more even playing field with larger local and international manufacturers by adopting higher end technology and automation, bringing down the cost per unit increasing profitability and enabling businesses to increase their reach with smarter and more sustainable packaging."
On the topic of sustainability, this was a major focus for the company during their 2019 expansion.
"One of our key suppliers was being sold and an international investor was involved, and we simply didn't have any confidence in the ongoing quality and supply, which was going impact our clients. So, expanding our own facility to allow us to manufacture in-house was necessary.
"Diversifying by developing our in-house engineering capabilities, moving into larger facilities, and investing in machinery, hardware, technology, talent and tooling we were able design, build our own machines and parts for the existing fleet of machines, and we are continually improving that range.
"Self-sustainability has been key especially in terms of Covid and our ability to provide timely support to our local clients," says Nathan.
Encouraging Australians to support Australian-owned and Australian-made products has always been a primary consideration for Packserv, who now have offices in Sydney, Melbourne and Brisbane.
"We were always a member of Ausbuy, and for many years before it closed, we were a strong supporter of Australian Made and local industry.
"All of the equipment in our rental fleet in the first 10 years of the business came from local manufacturers or distributors… it just made sense to have local support, equipment and parts to support our clients.
"It has been great to see various organisations pick up and continue flying the flag for onshore manufacturing and engineering. For many years I have watched our marketplace trend at different levels towards buying internationally, with various amounts of success," Nathan reflects.
"I remember having a booming year in 2011 when the trend of offshore manufacturing peaked, we were so busy running around providing equipment and technical to many businesses who had received goods with issues, labels, seals, caps not being screwed on tight. It's been good to see local business grow especially in the number of SME's we support.
"In my experience helping FMCG businesses over 25 years if you can buy local it just saves so much pain when you need parts, service, or technical support, no delays or months in shipping if something breaks, if you can pick up the phone and call someone locally it's just a massive advantage, and time saving has been massive."
The Packserv team is comprised of a of diverse range of specialists, who Nathan credits for keeping this innovative company in its constant state of evolution.
"Packaging and automation isn't one of those mainstream career choices, so HR can be a bit tricky," Nathan reveals.
"When you are looking for a machinist or a fabricator, its usually an obtainable skill set, but when you are looking for a technician that's a whole other story. Sometimes you can find someone who has experience with hydraulics or pneumatics or electronics or maybe is just mechanical… but never have I been able to find someone who has it all. You have to teach someone the missing pieces, and because our range of machinery is so diverse no one person has experience with all the different types of technology.
"Generally, we would take about 12-24 months to develop a good tech who can go out to just about any job and get it done.
"We have deliberately hired talent from different industries, with different experience and skill sets, and I love that our team are constantly learning from each other.
"Packaging is such a diverse industry. A CAD designer can draw it, a machinist can make it, a fitter can install it, a technician can put it in place and turn it on, a line setter can set it up and tune it, and an operator can make it work…. but I am yet to meet someone who can crossover the whole process.
"All of our technical team receive the most diverse training we can provide. What is that expression: A jack of all trades is a master of none, but is always better than a master of one? Everyone in this business is multi-skilled and enormously talented."
Working collaboratively is something that is truly embraced at Packserv, who have also partnered up with Australian Universities.
"We work quite closely with NSW Business, who have been amazing at connecting us with organisations at the cutting edge of technology," Nathan explains.
"We spend a lot of time working on advance technologies, whether it's in materials and additive manufacturing, or process engineering and the techniques we use to make our parts and equipment.
"The University of Wollongong has an amazing 3D printing lab; The University of Technology Sydney is right at the forefront of the latest in digital technology and is an amazing place to spend time.
"The NSW Government via Business NSW has been so helpful, also, with including me in the Entrepreneurs Program with the Department of Industry who have been a massive help in connecting us to the right people and helping with grant applications. We have some really exciting developments in the technology we use being put to work in our innovations department, that will form part of the advancements in our new machinery."
Although enjoying accolades and exponential growth, it hasn't always been plain sailing for the company.
"Packserv has been hit pretty heavily over the years by just about everything that could be thrown at it, from both the GFCs when we first started, a manufacturing sector-slump as industry moved offshore, then a recession… it's been an amazing relief to be one of the few businesses and industries that landed on the right side of Covid, actually growing 40% just in the last 6-12 months. The demand for our products, services and technical support has never been so high.
"We have seen over the last year-and-a-half a drop in imports, slower shipping, a lot of businesses internationally unable to supply, dramatic increases in time frames, all this along with a strong local demand for FMCG products, a local government and economy that has realised our over dependence on imported goods, and spike in the demand for quality locally manufactured products.
"It has been a delight to be depended on and work more closely with our clients as the marketplace moved more towards local support and supply chains."
So, if this business leader could look into the future, what does he think he would see ahead? "Wow, everything…" says the ever-motivated MD. "I know we have done a lot, even just in the last year, but there is this feeling in the business that we are only just getting started.
"The word 'more' comes to mind… more machinery, more advanced technology, more equipment, more talented team members, more clients who we can help thrive in our local manufacturing sector, and probably more markets.
"It would be amazing to see Packserv machinery on the international trade show circuit… maybe some time next year."