'SURFSKATE' INVENTOR FINDS HIS BEARINGS AFTER FOUR-MONTH TEST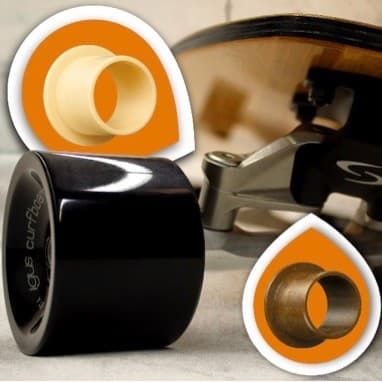 The 'curfboard' from Munich sports equipment manufacturer curfboard GmbH is a new design combining a surfboard and skateboard into a 'surfskate', marketed as "the ultimate surfing experience on wheels".
A special feature is that the rider doesn't have to push off to get moving or stay moving. Instead, similarly to surfing, speed is built up by shifting the rider's body weight, even uphill. Once in motion, gravity assists the board's automatic adjustment to the rider's weight.
The design has a better response behaviour than a standard skateboard, making it easier to control, but this manoeuvrability places especially high demands on the moving components, including the axles and bearings. These must be wear-resistant, resilient, maintenance-free and reliable even under the toughest 'curf' conditions.
In search of the appropriate plain bearings to withstand these stresses, inventor Stephan Augustin initially carried out a four-month outdoor test of bearings from various manufacturers under the harshest conditions.
"After evaluating the test results, it became apparent that only the igus plain bearings made of iglidur Z and iglidur J350 met the requirements," he explains.
Whereas metal/PTFE composite bearings wore out after a short time and completely failed, the iglidur bearings were able to prove themselves, remaining abrasion-resistant and corrosion- and maintenance-free despite the permanent high loads.
For the bearings directly on the boom, Augustin chose high-performance iglidur Z, characterised by its wear resistance and insensitivity to edge pressure. At the less stressed points, he used iglidur J350, which has a low coefficient of friction on steel and aluminium and is insensitive to shocks and impacts.
In addition, both materials – like all iglidur plain bearing materials – do not require any lubrication. Thanks to the solid lubricants embedded in the plastic, the bearing remains completely dry. Dirt and dust cannot easily adhere and are easy to wash off.
Treotham Automation
1300 657 564
www.treotham.com.au