'Shonky' safety glasses putting workers at risk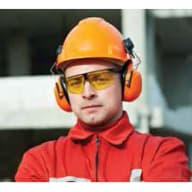 Eye injuries account for about 20-25 percent of all work-related injuries, according to latest industry figures.
In the 24-year period between 1985-2009 WorkSafe VIC received 8,624 claims for eye injuries with a total cost of $95.8 million.
A Safe Work Australia report shows that work-related eye injuries result in about 500 hospital admissions a year in Australia.
And an analysis report, conducted by workplace injury experts Driscoll and Harrison, found that: "many of the eye injuries occur when the person is not wearing appropriate eye protection."
"This suggests the need to examine the design of the safety eyewear and/or improve the training of workers so that they know how to properly wear the eye protection," the report concludes.
Employers are responsible for the welfare and safety of their employees. Caring for the health of an employees' eyesight is crucial for their optimal performance and comfort at work.
Inadequate or inappropriate eye protection and failure to observe occupational health and safety practices are the major causes of workplace eye injuries.
An Industry Update investigation has found that many Australian workers are currently using industrial safety glasses that are not certified to Australian standards.
The use of the correct safety glasses ensures the safety of workers and helps employers avoid injury related costs.
The majority of injuries result from small particles or objects striking or abrading the eye, usually treated by the local doctor or optometrist. Examples include metal slivers, wood chips, dust, and cement chips that are ejected by tools or windblown.
Some of these objects, such as nails or slivers of wood or metal penetrate the eyeball and may result in a permanent loss of vision. People with visual impairment are more susceptible to injury.
And some substances can seriously burn or irritate your eyes. This may happen if liquids splash into your eyes, or if you touch your eyes when your fingers have chemicals on them, or if a vapour gets into your eyes.
Some substances can pass through the eye membrane and enter your bloodstream. Les Cameron, senior health and safety inspector with Worksafe VIC, has attended numerous incidents involving eye injuries ranging from chemical exposures to foreign objects and battery explosions.
Many of those workers suffered serious eye injuries because of inadequate protective equipment.
In one case a Victorian employee was injured when a battery exploded while jumpstarting a battery system on an excavator. The employee sustained serious injuries to the head, neck and eyes due to acid from the battery and a piece from the battery casing penetrating his eye.
Mr Cameron is himself a victim of a workplace accident several years ago.
He was not wearing appropriate eye protection at the time.
Mr Cameron sustained an eye injury when hit with a metallic foreign object while working with an air gun. This required a three-hour drive to a Darwin hospital to have the object removed.
Fortunately, he quickly recovered – and his employer purchased and enforced eye protection following the incident.
Mr Cameron says it is imperative for employers and employees to choose safety glasses that are certified to Australian standards.
"In my opinion my eyesight is more important to me than any dollar value placed on the cost of personal protective equipment," Mr Cameron says.
By choosing reputable brands such as Specsavers Certified Prescription Safety Eyewear an employer can be ensured of meeting their legal requirements.
Specsavers' range of Certified Prescription Safety Eyewear is certified to the standards of AS/NZS 1337.6:2012.
This is essential for the frames and lenses to be considered safe and suitable for their intended purpose.
Specsavers provides professional eye care and safety eyewear in more than 280 stores throughout Australia.
The company's optometrists are professionally qualified and Specsavers continually invests in technology, allowing the company to have state-of-the-art testing equipment in all its stores, ensuring the best possible care for eyes.
Specsavers' polycarbonate lenses provide very lightweight lenses that are tough and durable and able to cope with most situations in which safety eyewear is needed.
Specsavers has a range of styles and sizes to suit most wearers – and all come with a 1-year guarantee against manufacturing defects.
To establish the best type of safety glasses for employees, employers should conduct a risk assessment of the working environment. This should be reviewed on a regular basis to ensure staff get the best possible eye protection.
A risk assessment of each activity will determine what type of Personal Protective Eyewear (PPE) must be worn.
Such PPE may include goggles, face shields, safety glasses, or full-face respirators.