'Old Reliable' Fire Protection
29-01-2013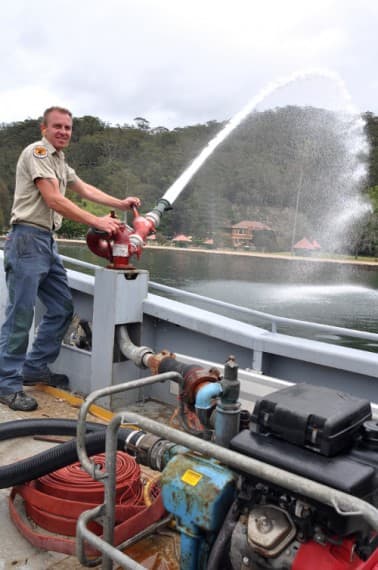 Michael Milligan shows of the power of the Aussie GMP pump for fire fighting.


Australian Pump Industries, manufacturers of high performance pumps, has provided Ku-ring-gai National Parks and Wildlife Service (NPWS) with fire fighting pumps for a range of applications. One unique, super high performance pump, nicknamed 'Old Reliable', has been mounted on the NPWS work barge in Sydney's Pittwater region for over seven years.

The barge, named the MV Platypus is a 7.6m aluminium flat bottom work barge designed to be used for a variety of tasks. The principle job is fire fighting but the unit can also be used as a work barge to service the waterways of Ku-ring-gai National Park.

The Platypus gives fire fighting crews the ability to move swiftly on the water to areas inaccessible by land to protect property from bushfires. It has also been used in boat fires, most recently the fire at Bobbin Head Marina.

The 3'' cast iron pump, called the Aussie GMP B2ZPMA, has a huge 80 metre total head, that's 150 psi pressure! It  boasts flows of up to 700 litres per minute.  The pump is powered by a Honda twin cylinder 20HP engine with electric start and comes complete in a heavy duty galvanised steel frame with anti-vibration mounts.

"The pump features a big open style impeller, made from heavy duty cast construction, which allows more water through the pump." Said Aussie Pumps Product Manager Dean Fountain. "That impeller provides excellent flow/pressure characteristics for fire fighting," he said.

The permanent mounted monitor fire fighting nozzle on the Platypus enables fire crew to precisely aim the powerful jet of water for maximum fighting capabilities.

The Aussie pump is coupled with a Honda petrol engine backed by a 3 year Honda warranty. World leading diesel drives Yanmar, Kubota or Hatz air cooled engines are also available.

A carbon ceramic mechanical seal with Buna elastomers for salt water resistance is supplied as standard. Buna provides ultimate protection for abrasion and corrosion in salt water applications.

Aussie Pumps is proud to provide National Parks and Wildlife Services reliable and quality equipment for their valuable work.

Further information on Aussie Pumps GMP pump range is available on the Australian Pump website (www.aussiepumps.com.au) and from Aussie Pump Distributors throughout Australia.