'Green cleaning' the way to glow
16-08-2013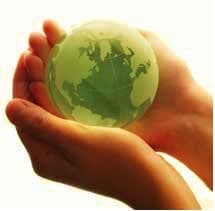 You may be risking the health of employees and visitors by using some commercial cleaning products.  Now you can improve indoor air quality and save money by going green.
Heavy-duty cleaning products are often required to thoroughly clean manufacturing facilities and other commercial buildings.
But that doesn't mean you have to rely on toxic, environmentally harmful chemicals and solvents.
Such cleaning products can not only make workers ill, they can decrease indoor air quality and pollute groundwater.
Choosing green industrial cleaning products you are not only protecting worker health and improving indoor air quality, you can also save money.
This is because 'green' products are highly concentrated and non-toxic enough to use at any time during the day, even when workers are present.
So why choose green industrial cleaning?
Standard commercial cleaning products contain volatile components that can be a hazard to cleaners, employees and visitors at the facilities being cleaned, and the ecosystem outside the building.
Green Seal, a non-profit organisation that sets leadership standards for eco-friendly products, services and companies, offers the following advice to manufacturers when choosing cleaning services:
Choose environmentally preferable cleaning products
This includes general-purpose cleaners, floor cleaners, bathroom cleaners, carpet cleaners, floor finishes and floor strippers, liquid hand soap, toilet tissue and facial tissue, paper towels and napkins.
Reduce chemical waste and use chemical products efficiently 
This includes proper dilution of chemical cleaning products.
Also, workers should be trained to use products according to label instructions with the appropriate technology.
Spray bottles and dispensers should be properly rinsed and empty containers disposed of responsibly.
Use of chemical cleaners should be reduced, minimised or eliminated whenever possible.
Recycle
Use reusable cleaning cloths instead of paper products when practical. Implement a recycling program and either dispose, rinse or place cleaning cloths in a sealable container within two hours of use to minimise evaporation of chemical products into the air.
Sanitation and disinfection
Disinfect workplace surfaces, equipment and devices daily. This includes restrooms and areas used in food preparation.
Choose energy efficient vacuum cleaners and sweepers 
Reduce your company's carbon footprint and cut energy bills by using "green' machines.
Safety training
Employees should receive on-site, sitespecific, annual training and be given opportunities to provide feedback and suggestions. Cleaners should provide management with lists of cleaning products used in the workplace.